Archon Diving Video Light W41VP
Diving Video and Project 2-in-1 Light, up to 2600lm.
◆W41VP Multifunction Diving Video & Spot Light
◆White (video light) CREE XM-L2 LED*4 (max 2600lm), White (spot light) CREE XP-G2*2 (max 600lm), Red CREE XP-E LED*2 (620nm, max 200lm), UV LED*2 (365nm, max 6W)
◆Color temperature: 5000–5500K White (video light), 6500K White (spot light)
◆Switch 1: White(video light): high>low>strobe>off Switch 2: White(spot light)>Red>UV>off
◆Runtime: White(video light): high 90min,low 180min,strobe 120min; White(spot light): 150min; Red: 180min; UV: 300min
◆Reflector: glossy aluminum reflector (spot light only)
◆4mm PC lens
◆Durable aircraft-grade aluminum
◆Angle of light beam: 110°(video light), 10°(spot light)
◆Surface treatment: premium type III hard-anodizing
◆Black
◆32650 Li- ion battery*1
◆W/ battery over-discharging protection, polarity reversing protection
◆W/ gas release valve
◆4.2V to 2.8V
◆Waterproof: 100M
◆145mm (length) *50mm (dia. of lamp head) * 41mm (dia. of lamp body)
◆Weight: net ca. 332g; gross ca. 470g; underwater w/battery ca. 250g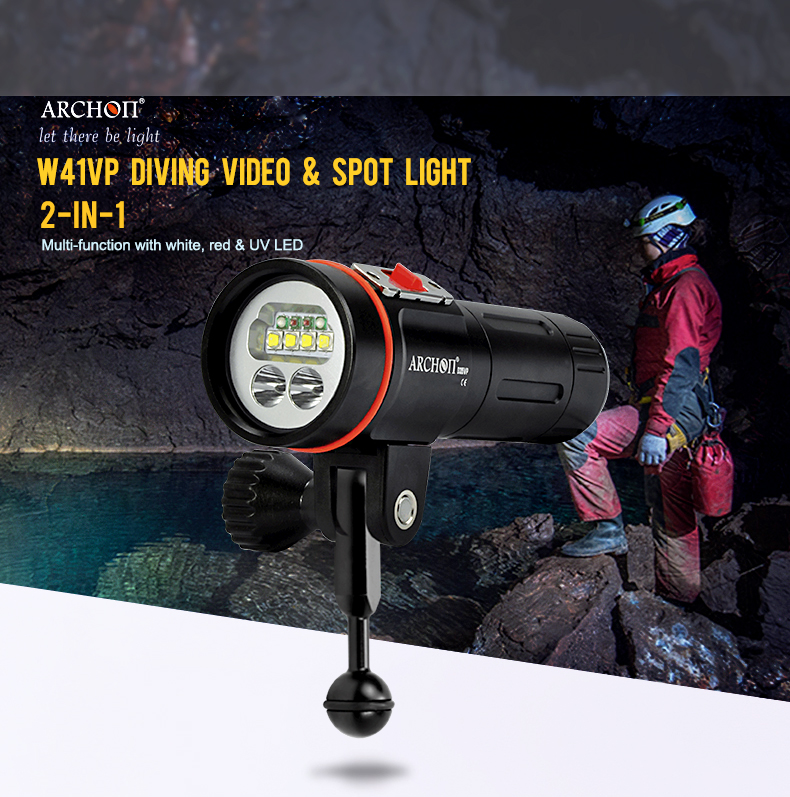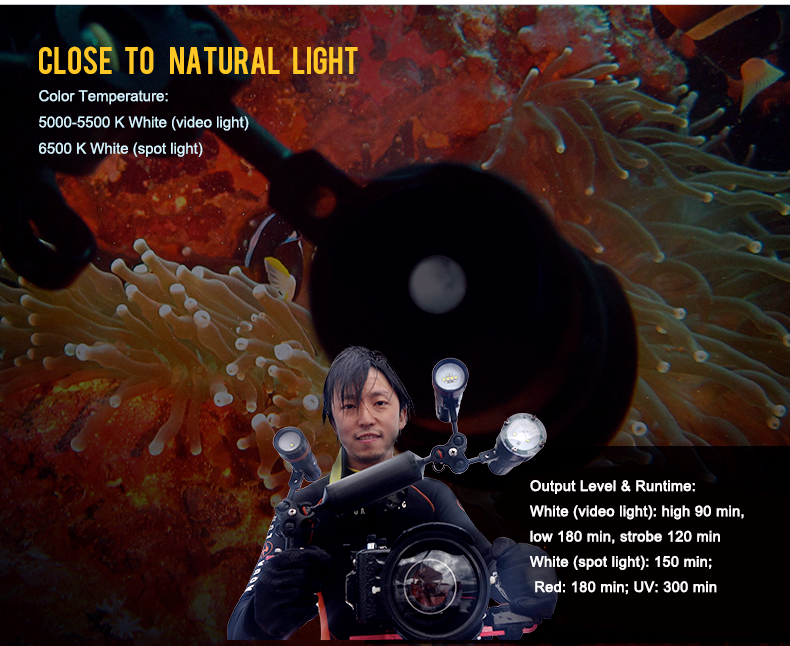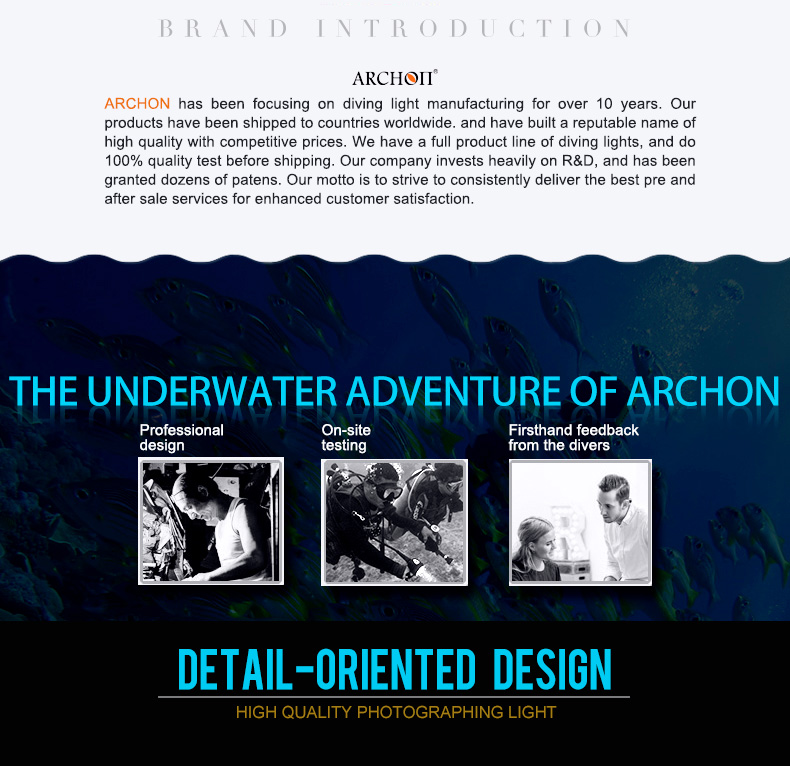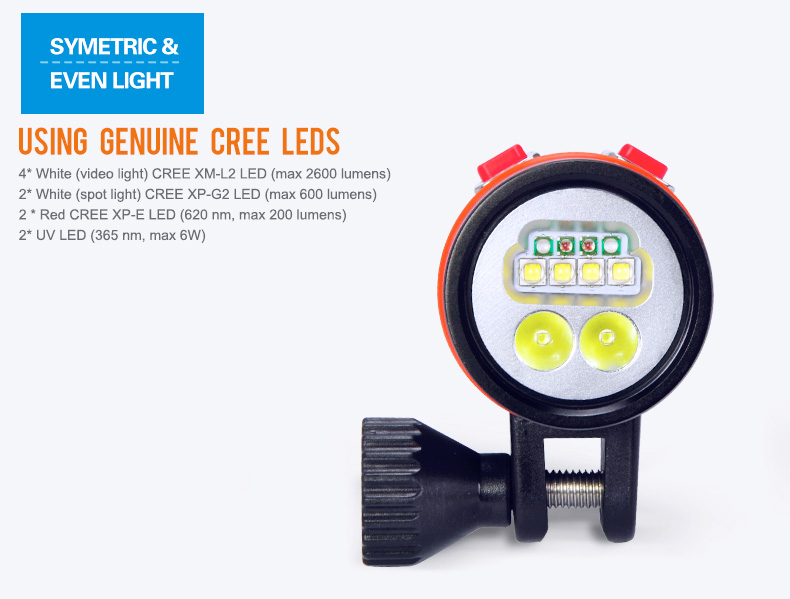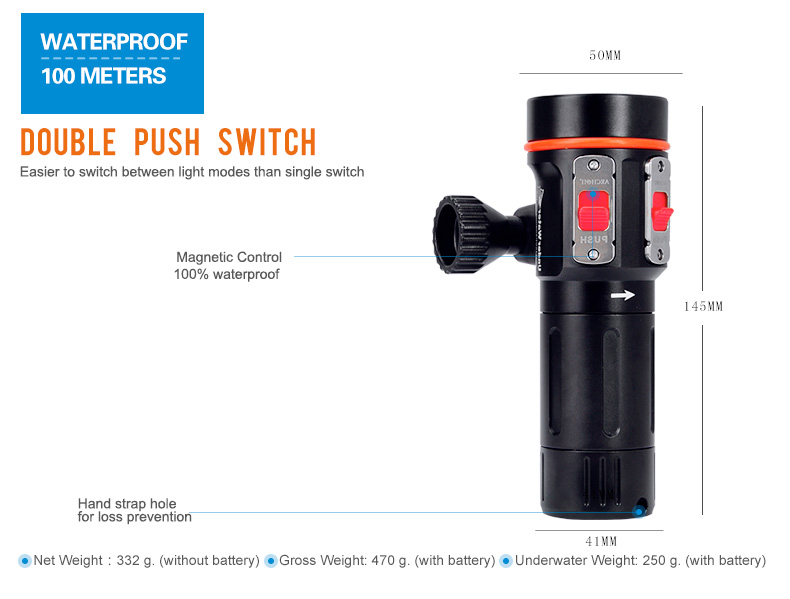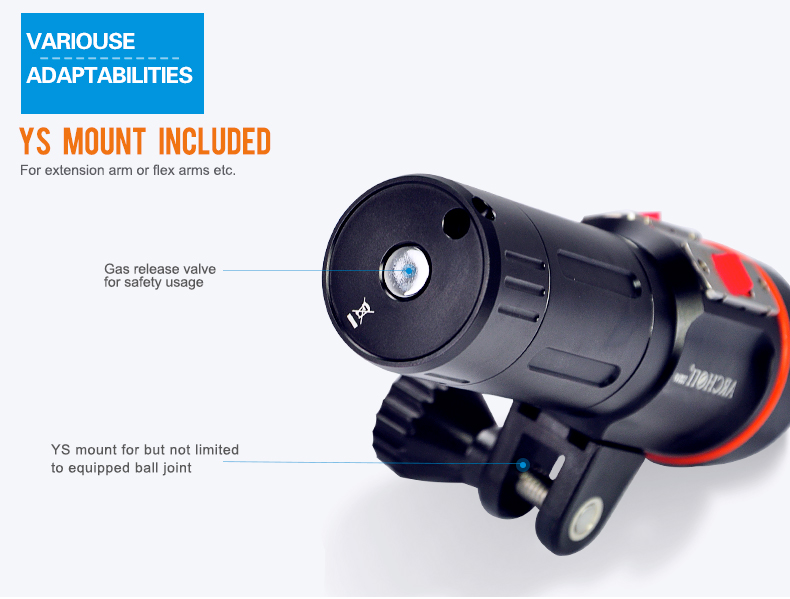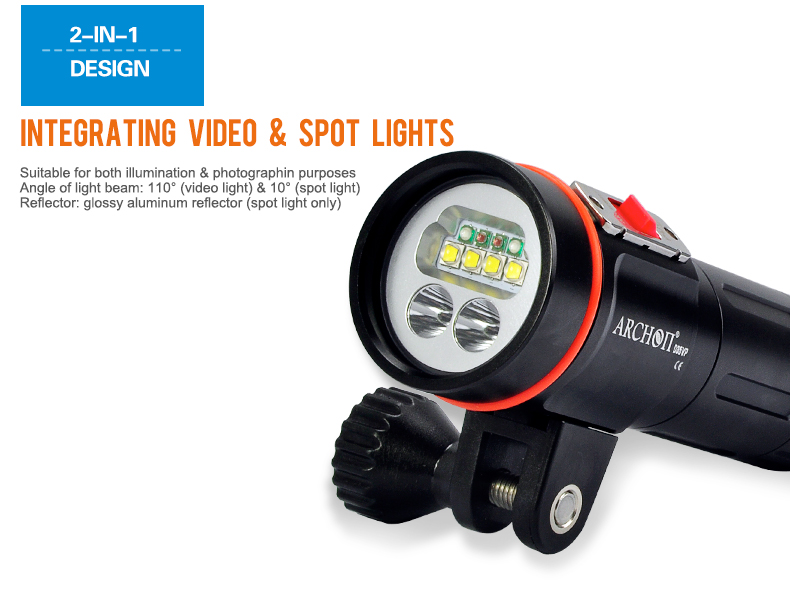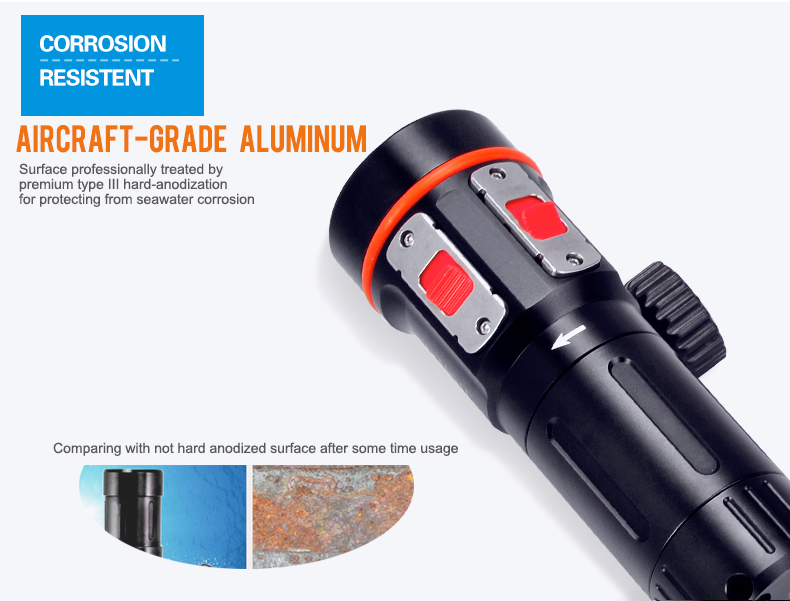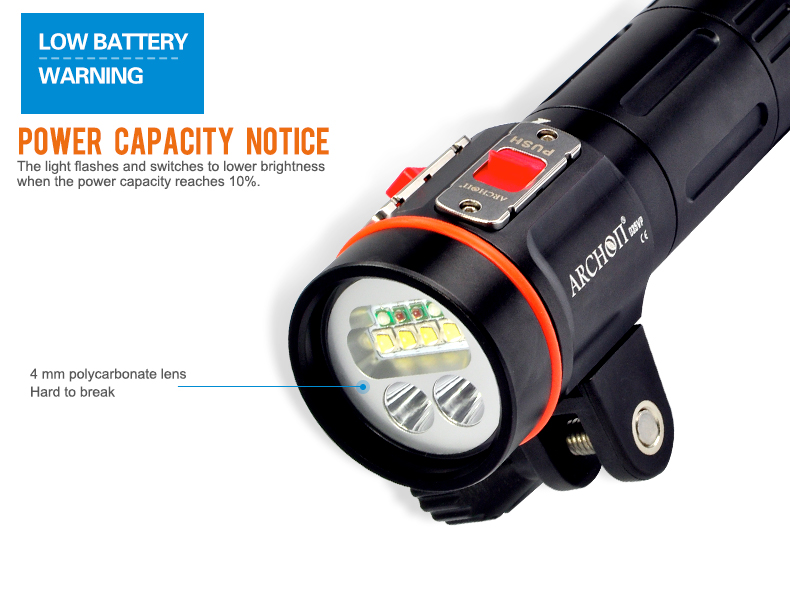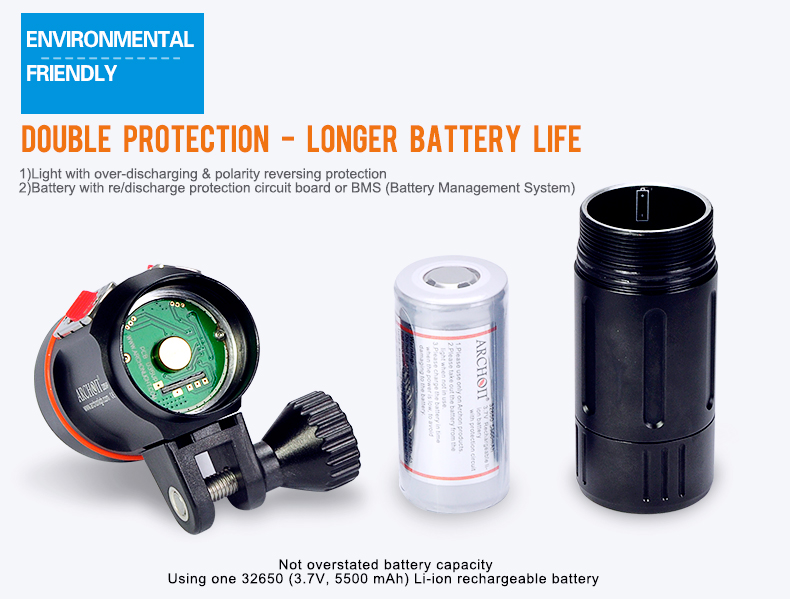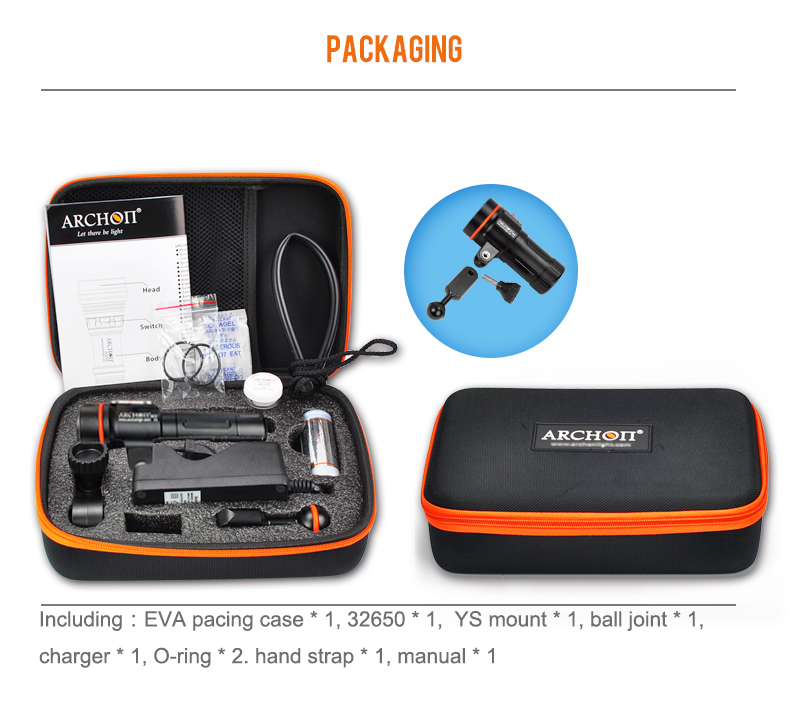 Thank you for choosing Archon Dive Lights! We are dedicated to producing and distributing the most technologically advanced and user-friendly dive lights. We have a light for every diver-Backup lights, recreational primary lights utilizing features such as focusability and hands-free use. Archon also offers technical lights, video lights and photography lights. Our mission is to continue utilizing the latest technology to produce professional grade diving gear. We aim to apply the best materials and design to our product, never compromising on quality.
Archon Dive Lights Limited Warranty
One year limited warranty set forth by Xiware Technologies Ltd-Manufacturer of the Archon Dive Lights line. This warranty gives you certain and specific rights; you may have altered or other legal rights which vary from country to country.
1) Archon guarantees the proper operation of this product by the original retail purchaser under normal and intended use.
2) The warranty covers a period of up to one year from the date of purchase-SAVE YOUR RECEIPT!
3) This warranty applies only to the original retail purchaser, which does not cover commercial or rental use, and it is not transferable to third parties.
4) If the original retail purchaser detects defect in the material or workmanship, return the product together with a copy of your receipt (with date of purchase) from an authorized Archon dealer or directly to Archon with prepaid postage.
5) This limited warranty is in lien of all other warranties. No other person or party is authorized to assume for Archon any other liability in connection with the sale of this product.
6) This warranty will be void if the product or any of its parts have been tampered with, repaired, modified, transformed, adapted, or damaged without authorization from Archon.
7) This warranty does not cover damages due to impact used in chlorinated or polluted waters and extended exposure to heat sources.
Will be replied within 24 hours.

100% money back guarantee.